-2
A Report on
2nd Zarathushti International Film Festival (ZIFF-2)
Ýì×Þk yoCrÊ

Presentation House, North Vancouver 25-28 October 2002
íO¡Noq3740 æDØÛDFA 5 DN3 CkDÛDÆ-oÞßÇÛÞ
More than 600 people participated in the three-night shows
lÜOw¡Û DèØÏì¾ êDzDØOF Hz év Í߬ ok "ÔÆ p¿Û 600 kÞld
.lÛkßF íO¡Noq pìº kCp¾C %20 kÞld , kCl·NÝëC qC
Watch the TV Announcement: Windows Media Player Real Player
Announcement in Papers: English Persian
BBC, London Interview(18/10/02): Part 1

Part2
Name of Films in Alphabetical Order
For details of each film, click on the Film Title
| | | | |
| --- | --- | --- | --- |
| Title | Lang. | By: | ÖDÛ |
| | None | Ardeshir Jamshidi | éÛDìFC |
| | Persian | Pedram Akbari | oßÛ DF æoDØç |
| | Persian | Dr. Pouran Eslamidoust | ÈFDF é·ÏÂ |
| | Persian | Majid Mahichi | êoßv éGÜzoDèZ |
| | English | M. Edalati, N. Kiani, M. Poulad, Sh. Shahriari | êp¿Û 4 æpëCk |
| | None | B. Jahani | ÖDF P¡J pF ¢NA |
| | Persian | Sh. Bazadeh | P¡ëpç ok ælv Ý¡V ÝìÎÞC |
| | None | P. Jamshidian | rGv pìJ ÍDvoDèZ |
| | None | B. Jahani | DG×Þpìç |
| | English | T. Dubash | ÚDØÛDÆDìÛêDJ êDV |
| | Persian | K. Niknam | lFß× oDO¿Ê ÝëphA |
| Music & Pilgrims | None | A.Jamshidi, B. Jahani, Sh. Bazadeh | MoDëq ok íÃìvß× |
| | Tajik | Mazdayasnie Monasterie | 1 ,2 ÚDOwÇìVDN ok qÞoßÛ |
| | None | Hamid Zargarzadeh | ßÆDF ok qÞoßÛ |
| | English | Cyrus Barucha | ¢NA êDèÎDF pF |
| | English | Shahriaries | P¡èF |
| | English | Hekmat | xìÎßKvpJ ,évoDJ |
| | None | Iran Garden Publication | jëoDN qC pN ÝèÆ ,ÚCpëC |
| | Dari | F. Demehri | kp× pìJ ÚA |
| | Persian | Pedram Akbari | ÖDh P¡h |
| | None | B. Jahani | íØël éÛDh Èë |
| | Persian | Dr. Pouran Eslamidoust | rëpGN æqß× |
| | None | A. Jamshidi | æp¬DhêDçéZßÆ |
Film and slides about ancient monuments and historical sites. The old palaces, bridges, castles, engravings and temples are displayed. (no-dialogue)
Visiting this ancient Castle of a National Hero, Bobak Khorramdin who resisted and fought with the Arab invaders for 21 years. Famous scholar of Ancient Persian Culture, late Dr. Pouran Eslami and her husband produced this video in 1999. (Persian)
The unique women's clothing, native language and ancient sites are shown in this film of the beautiful village near Natanz/Kashan in Iran. (few comments in Persian). By Ardeshir Jamshidi
The ancient fire temples and other pilgrimage sites are displayed and their stories are told. It is professionally produced by Pedram Akbari. Azargoshnasb FireTemple, Chak Chakoo, Herisht, Fars Banoo, Naraki, Narestaneh, Sete Peer and Blassgird are amongst these sites. (Persian)
In the Footsteps of the Forefathers:
This documentary captures the journey of thirty four, Americans to Iran. This group of young Zoroastrians is very eager to trace their roots and history by visiting the country where one of the world's oldest monotheistic religion, their religion, Zoroastrianism, originated. Their desire to walk in the footsteps of their ancestors leads to this incredible journey. A trip that is full of risk - a pilgrimage that involves traveling to a country that has no American embassy - and a collective passion for their history that will not let any of this stop them. Besides following the evolution in the thoughts of the eager, young pilgrims, the film allows the viewer a rare glimpse of Iran, a country that has shut itself off from the rest of the world for the past 20 years.(English). By Tenaz Dubash.
It is the first and only dramatic movie to be made about the Zoroastrian religion and its people.
In 1982 Zubin Mehta the renowned conductor, then the New York Philharmonic Orchestra, agreed with Cyrus Bharucha that a film about the teaching of Zarathushtra was due to be told to the world at large. For over 1000 years, the Iranian and Indian Zoroastrians have been very silent and in turn lost the history and meaning of their own great religion.
It was never intended to be a Parsee answer to Ben Hur or The 10 Commandments. Cyrus Bharucha, Jamshed and Meherji Madan produced a film with deep research and filmed it in a style that would be entertaining and educational at the same time. The film spans 3500 years of the history of the Zoroastrian people covering the life of the prophet, the heights of the Empire of Cyrus and Darius, the defeat of the Persians by Alexander, the coming of Islam, and all the way to the life of the Parsees in modern India.
Some of the leading actors of the UK and India star in the film- Nigel Terry as Zarathushtra, Paul Shelly as Vishtaspa, Amersh Puri, Syeed Jaffery, and Soni Razdan are amongst the stars that play pivotal roles in this dramatic and spectacular film. The research was done with scholars all over the world from Columbia University, to England, Toronto University and India. This film will take you to a time and place you may have only read about. (English)
The Master Piece of Shahriar Shahriari and Shervin Shahriari of Vancouver where Mojdeh Shahriari has put this on a nice video.
Long time friends and co-creators, Shahriar Shahriari and Shervin Shahriari, tell the story of the Zoroastrian nation. Their deep thoughts take them to pleasant childhood memories and bring them face to face with Ashoo Zarathushtra and Cyrus the Great. Following the footsteps of these leaders they offer the Zoroastrian community their vision of the future. Paradise is a video production of an international presentation, which had been given to wide audiences in several cities in Canada, USA and Pakistan. (English)
This museum in North West of Iran holds many antique items as old as 4000 years BC. Dr. Pouran Eslami and her husband have visited this interesting place and captured the videos of almost all of these ancient and pre-Islamic artistic items. (Persian with English Scripts)
An amateur filmmaker has made this video of a night in Mazra Kalantar, Yazd, Iran where almost every house in the village put fire on their roofs until the dawn. (No Dialogue). By B. Jahani
Film and slides about ancient monuments and historical sites with explanations on: Persepolis, Pasargad, Achaemenian and Naghsh-e Rostam. (English). By Hekmat Production.
This unique fire festivity in Sharifabad, Yazd, Iran has been captured on video by B. Jahani. (No Dialogue). By B. Jahani.
The last interview with the great and late Mobed (Magi or Priest) of Iran, Mobed Rostam Shahzadi. A week after this, he sadly passed away. It is his social and religious will too. (Persian). By Kourosh Niknam.
Feraydoon Demehri talks to a man whom he does not know. It is on the main road of a village of Yazd, called Cham. The dialogue is about life, death, children, nursing home and other simple subjects of life. It is the first documentary in Dari (Zarathushti native language in Iran).
Four young adults from Vancouver Canada, Mandana Edalati, Nooshin Kiani, Mehrbanoo Poulad-Noshiravan and Shervin Shahriari write, direct and produce the "Circle of 4" video film to not only document certain unique characteristic of the Zoroastrian Community but also to educate the viewer on Zoroastrian religion and history. The "Circle of 4" is a combination of an amateur short film and educational segments. In addition, it contains four very short but interesting interview segments on King Arthur's origins, Sports and other Zoroastrian topics. (English)
Norooz Festivity in Tajikistan(2 parts):
These videos show parts of the Norooz Celebration including beautiful Tajik Songs, Dance and reading of poems. The Tajiki dialogue is a branch of Persian and sweet to hear for Persian-speakers. As it is mostly music and dances, there is not much to be translated. Siavash Kasraee, the great Persian poet also appears in one part while living in Tajikestan.
During the Norooz time (Persian New Year, 21st March), Hamid Zargarzadeh was invited to take a wedding film in Bakoo, Azerbaijan where he tries to visit an old Fire Temple still burning with Gas. He also shows parts of a strange museum. (No dialogue)
Peer-e Sabz is the most famous Zoroastrian pilgrimage site in Yazd, Iran. Zoroastrians of Vancouver, British Columbia go out to Shannon Falls and celebrate this event in memory of the big event back in the motherland. This video shows parts of the ceremony for the first 4 years. By Parvaneh Jamshidian
Sadeh Festivity, the occasion of Fire Creation by the Human Being on the 100th day of the big winter, 29th January, is celebrated by Zoroastrians and other Persians. In Yazd, since 2001, the festival is held in Herisht, a pilgrimage site near Ardakan, Yazd. (some comments in Persian). By Shahpour Bazadeh.
The last Tuesday Night of the Persian Year (Starts on the beginning of Spring, 21st March) is celebrated by all Persians by making bon fires and jumping over it, singing and performing certain traditions. Although the way it is performed now days, is not Zoroastrian, but every festivity which has a fire component, shall be searched for its roots in this Ancient Persian Religion. Majid Mahichi of Vancouver has made this film for a Persian TV Channel few years ago and depicts its traditions and superstitions. (Persian)
This very short video brings the memories back for the Zoroastrians who lived in "Mahale" of Yazd. (No Dialogue). By Ardeshir Jamshidi
This short video shows the rooms and the architecture of an old Zoroastrian House in Yazd. (no dialogue). By Ardeshir Jamshidi.
Pedram Akbari, a professional filmmaker, has made this video about 20 years ago. Shows parts of the oldest and active fire temple in Yazd and the death remembrance ceremony (Foroudogue) in Yazd. (Persian)

North Shore Arts Commission
Zoroastrian Society of BC

Mr. Allahyar Dabestani
Beyad-e Iran TVÚCpëC kDìFÚßërëßÏN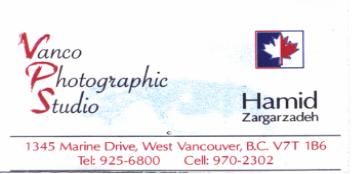 oÞßÇÛÞ PvÞ , lëÔÆ g - CpOì× æDËzÞp¾
ÍkrÛÓ g-oÞßÇÛÞ MoßÛ - uoDJ æDËzÞp¾