---
Park Board Chair/Aquarium Staff denies conflict of interest
Georgia Straight
News and Views News and Views Archives
By Matthew Burrows
Publish Date: 18-May-2006

Heather Holden sees nothing fishy in her relationship with the aquarium.

Vancouver park board chair Heather Holden has refused to answer any more questions from the Georgia Straight on a possible conflict of interest relating to her position as a programs administrator at the Vancouver Aquarium.

And Holden-elected as park board commissioner in November 2005-would not reveal the nature of legal advice she claims to have sought from Vancouver lawyer Frank Borowicz. The advice related to her voting on recommendations in a park-concession strategy study that also could affect the bottom line of Vancouver Aquarium concession revenues.

On May 1, in a board meeting at Strathcona Community Centre, Holden voted with her Non-Partisan Association colleagues in a 4-1 vote in favour of the "implementation strategy" contained in the study, which looks at how food and beverage service is delivered in the park board-owned
concessions. She announced at the crowded meeting that she had obtained legal advice that any pecuniary interest between her position as park board chair and her job at the aquarium was so remote that it could not reasonably be considered an influence on how she votes.

The Vancouver Aquarium Marine Science Centre, a registered charity with nonprofit status, made total revenues of $24,053,684 in 2004 and $18,048,819 in 2003. Holden has been in its employ in her current position since 2004, according to a CV posted at www.heatherholden.ca/.

Following the May 15 meeting, held at the Kensington Community Centre, Holden refused to disclose her salary there.

"That's none of your business," she said. "It's nobody's business what my salary is."

On May 16, the Straight contacted Holden by phone and asked if the legal opinion was in written form.

"That's none of your business, and I'm not going to answer these questions any more," Holden said. "I'm happy to talk to you about relevant issues....I'm not going to talk to you about it [the legal advice] anymore, because you've been rude and aggressive."

An aquarium delegation was scheduled to address the board's planning committee at park board headquarters on May 16 after the Straight's editorial deadline. The previous evening at Kensington, Holden explained why she did not feel she should withdraw from votes relating to the aquarium. Even in her absence, the NPA still has a 4-2 majority.

"I was elected by nearly 60,000 people in this city to represent them in such discussions and votes, and I had an interest and a powerful voice on this topic with my business background," she said.

Al De Genova, a 13-year park board veteran, told the Straight that his NPA colleague should exercise more caution when casting votes.

"Even if it's a perceived conflict, she [Holden] should be removing herself," De Genova said during a phone interview on May 16. "I guess perhaps she's concerned how I may vote [if she abstains], and if that's the case, in a tie vote between COPE and myself, it [a motion] is defeated. The aquarium has a.project coming forward, and if I'm not supportive, it doesn't move forward. It'll be interesting to see if she does remove herself."

In an earlier phone interview, Holden said that Borowicz, her lawyer, was recommended to her by Vancouver Quadra Liberal MP Stephen Owen because, she said, he is "the best-known governance conflict-of-interest expert in, potentially, the world. He's the honorary consul to Sri Lanka, for example, so he really knows his stuff."

Vancouver lawyer and former NPA councilor Jonathan Baker also has considerable experience in the area of conflict-of-interest involving municipal politicians.

"People are very cautious [around conflicts], because if you're wrong you can be disqualified from office," Baker said. "But if you have a legal opinion saying you're okay, generally you're okay. The question then becomes, is the legal opinion right?"

Baker added: "You also have to factor in her position at the aquarium. If she's a janitor, it's not likely that she's going to get promotions, but on the other hand, if she's a middle-level administrator, I would think there is a potential conflict."

The Coalition of Progressive Electors first expressed concerns in an April 27 news release. The civic party noted Holden had stated during the November municipal election that she would abstain from voting on any issues relating to the aquarium. But even before the May 1 vote, Holden voted at the committee level to send the report to the board meeting.

Top
---
Aquarium expansion plans in hot water
By matthew burrows
Publish Date: 25-May-2006

Vancouver Aquarium harbour seals may look relaxed, but plenty of tension is brewing over whether to expand their Stanley Park home by nearly a third.

An enlarged Vancouver Aquarium footprint in Stanley Park is looming, following confirmation from aquarium director John Nightingale that he is seeking to expand the 50-year-old facility by 2009.
"Well, we've proposed one [an expansion], but whether we continue to plan or not sort of depends on the park board," Nightingale told the Georgia Straight in a May 18 phone interview. "The current aquarium footprint is 11,900 square metres. The proposed expansion is 3,420 square metres, which is a 28.7-percent increase. It's actually in three separate areas, not in one blob. So a bit to the north, a bit in the west, and the majority where parts of the old zoo were, in front of the aquarium."

An aquarium delegation, including Nightingale, made a presentation to the park board planning committee on May 16. On May 19, Coalition of Progressive Electors commissioner Spencer Herbert told the Straight he had major concerns the public was being denied a say on such a contentious issue.

"Any time you try to take some of Stanley Park, and take it away from the public and put a cost on it, there's been controversy," Herbert told the Straight by phone. "For the aquarium to want to take around 30 percent more of Stanley Park is, I think, going to be quite difficult for people to agree with. I think the aquarium does good work in trying to promote some conservation and some environmental understanding. They've said they'll preserve the major trees, but preserving the major trees behind a closed fence leads to the question: who are we preserving it for?"

Piet Rutgers, a 26-year park board veteran and current planning and operations director, confirmed on May 19 that a December 1995 park board motion—passed by a Non-Partisan Association–controlled board—requires that "any request by the Vancouver Aquarium for an expansion of the area currently occupied by the Vancouver Aquarium under its lease with the Board of Parks and Recreation be referred to a public referendum to be held during the next general civic election".
Added Rutgers: "The [1995] motion would suggest that there would have to be a referendum [to expand the aquarium], unless the board changes the motion. The board can rescind motions that they or previous boards make."

NPA commissioner Marty Zlotnik is proposing to do precisely that. Following the May long weekend, Zlotnik submitted a motion for the May 29 park board meeting seeking to rescind both the 1995 NPA referendum motion and the 2005 COPE motion pushing for a plebiscite on the 2008 civic ballot regarding whales and dolphins being kept in captivity in the park.
On May 23, Zlotnik explained the motives behind the motion.
"I believe that Stanley Park is a fantastic facility and I think park space is a premium," he said. "But I think the questions park commissioners are always asked is: how do we deal with our parks and how do we provide services to the citizens of Vancouver and how do we provide something that is interesting?"

Zlotnik said he also felt there should be public consultation now rather than waiting until the 2008 civic election. He accepts that there will be opposition such as that expressed by Herbert.
"There are people all over who have different opinions about what the park board's job is, but in this case I think the aquarium is an important part of Stanley Park," Zlotnik said. "I don't think it is a commercial interest we should be terrified about."
Herbert told the Straight on May 23 that the May 29 board meeting at park board headquarters (2099 Beach Avenue) will be tense.

"There should be a referendum," Herbert said. "This meeting will be a hot one, especially if we can get enough people [speakers] out to convince the commissioners they're going down the wrong path on this one. If they vote to get rid of the referendum, there won't be one, but if we get enough people out, maybe there will be one."

Herbert added that he believes the Vancouver Aquarium "has known about this for 10 years" and had a chance to come forward before the last civic election.
"The rules the park board set in place 10 years ago were, 'If you're going to expand, take it to a vote,' and they could have done that last November," Herbert said. "But instead they wait for an NPA board, which maybe would be more compliant, and get them to get rid of the rule that deals with more expansion."
Nightingale added that the aquarium is "about a third of the way through a major decade-and-a-half-long revitalization".
---
Coffee with No Whales in Captivity Spokesperson Kelly Bunting
NorthShore Outlook
By JENNIFER MALONEY Staff Reporter
Mar 23 2006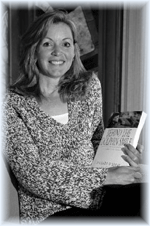 The only time Kelly Bunting's six-year-old son visits the Vancouver Aquarium is to protest its existence. "If you bring a child to an aquarium and say this is fun and great, it teaches them it's acceptable," the West Vancouver mom explains from her naturally-lit lounge.

A few weeks ago, the member of the Coalition for No Whales in Captivity read an article in The North Shore Outlook that disturbed her. The article profiled John Nightingale, Vancouver Aquarium President and depicted his view of the Stanley Park attraction as a bridge between the city and nature. The president stated he would be the happy if the world didn't need aquariums, but insisted they were necessary to educate the public about animal and marine life.

Bunting doesn't buy that argument.

"[The aquarium's] argument is kids wouldn't care about animals if they didn't see them there," she asserts. "Kids are so excited about dinosaurs and they've never seen dinosaurs."
Sipping on herbal tea, Bunting reminisces about her own childhood, which shaped these views. Thinking back she can't recall a time her mother left home without a leash and dog food in case she came across a stray dog that needed help during their outing.

Her mother's compassion towards animals later compelled a young Bunting to volunteer for the Humane Society in her native Ontario. She later became a director of the board for the Canadian Federation of Humane Societies, the mandate of which is to protect animals from cruelty and suffering.

"My values are compassion to animals and empathy," she explains. "I have a six-year-old boy and I'm now teaching him all these things."

Unlike the aquarium, which uses real-life examples of animals to educate the public, Bunting uses books and the natural world to educate her son. And it appears her lessons have not gone unnoticed. Recently the stay-at-home mom overheard her son scolding a friend who wanted to destroy a spider's nest.

"I overheard him saying, 'How would you like it if you were an egg and someone broke you all up?' So I really think it's the parents that teach the kids, not the aquarium."
As an east coast native, Bunting was shocked to discover an aquarium in an area she viewed as environmentally progressive when she moved to Vancouver 10 years ago. Unlike other west coast attractions, like the Monterey Bay Aquarium where wild mammals are viewed in the ocean from a distance, the Vancouver Aquarium still exhibits captive whales, sea lions, and dolphins - a policy Bunting believes is unethical.

"I think every one wants to go [see a whale] because it is a beautiful creature and you want to be near them and see them," she explains. "I just don't think it's justifiable to inflict this cruelty.'"
With her floor-long resume of animal rights activities, one would assume Bunting has no desire to spend a rainy Vancouver day at the under-water attraction, but Bunting contends she would like to take her son to the aquarium - if its mammals were let free.

"I know people who say, 'I wish I could go to the aquarium because there are interesting things to see, but we can't go if the mammals are there,'" she explains. "If it was a museum-style with no animals, but interaction. There's so much you can do with devices, robotics and multi-media."
In her latest endeavour, Bunting is helping organize the second annual Animal Voices Film Festival, a showing of documentaries that feature animals. One festival entry features Dr. Paul Spong, a former doctor for the Vancouver Aquarium's orca lab, who comments on the capturing of mammals for captivity.

"It really opens your eyes to what's going on," Bunting attests. "It shows how violent the captures are. It's sad to see all the stuff that's hidden from our view."

With the culmination of its 50th anniversary this year, it would appear the Vancouver Aquarium has become an accepted part of the city.

However some changes have been made to the facility over the years. In 1996 the aquarium announced it would no longer capture wild whales and dolphins. And in 2000, the aquarium ended its killer whale exhibit.

But Bunting and a strong number of animal activists are carefully watching the aquarium to ensure these policies are upheld. They are cautiously optimistic that their voices will eventually be heard.
Until that day arrives Bunting is content to ride bikes, ski, hike and play games with her son, who she hopes will grow up to value marine life - from a distance, of course.


---
Park board debates rescinding rule that requires a referendum on any aquarium expansion


Jonathan Fowlie, Vancouver Sun
Published: Tuesday, May 30, 2006

VANCOUVER - A proposal that would allow the Vancouver Aquarium to expand without holding a citywide referendum drew a lengthy list of speakers at a Vancouver park board meeting Monday night. The motion, which sought to rescind two motions passed by previous boards, would also scrap plans for a plebiscite during the 2008 civic election on the question of whether whales and dolphins should be held in captivity in Stanley Park.

Twenty-six people, including members of the public, aquarium staff and representatives of animal rights groups, signed up to speak on the issue. No decision had been reached by press time Monday night.

Former park board commissioner Anita Romaniuk said that if public hearings are held instead of a plebiscite, they can be overwhelmed by lobbyists on either side of the issue. Such hearings would make it "impossible to know what the public really thinks," she said. She urged the board not to rescind the resolutions, and to hold a plebiscite on both matters.

Others raised ethical and moral concerns about keeping whales and dolphins in captivity.

Aquarium executive director John Nightingale told reporters a public consultation would be a much better way to gauge public opinion than a plebiscite.
© The Vancouver Sun 2006

Top
---
Proponents, critics of aquarium expansion clash

Proponents, critics of aquarium expansion clash
Referendums may be rescinded if parks board gets its way

David Carrigg, The Province
Published: Tuesday, May 30, 2006

VANCOUVER - The Vancouver parks board was asked last night to pave the way for the Vancouver Aquarium's ambitious expansion plans, despite heated opposition from animal-rights advocates.

At an overflowing parks board meeting, several people opposed to keeping dolphins and belugas in captivity asked the board to keep its promise to hold a referendum on the aquarium's future.

Parks board commissioner Marty Zlotnik had earlier in the night asked the board to reverse a previous parks board promise to hold a referendum if the aquarium wanted to expand, as well as conduct a separate referendum in 2008 asking whether Vancouverites support keeping dolphins in captivity.

Aquarium boss John Nightingale told the board earlier this month that he wants to increase the amount of public land the aquarium occupies in Stanley Park by 30 per cent.

The $80-million plan includes a new sea-otter pool, underwater viewing area for sea lions and a redeveloped dolphin facility.

The aquarium also wants to take over the parks-board-operated concession outside the facility.

"Those who oppose a referendum do so because they fear a referendum," said activist Robert Light.

Janos Mate of Whale Friends said the aquarium fears the opinion of Vancouverites.

"Keeping cetaceans in captivity is cruel in almost unconscionable levels," Mate said.

Nightingale countered by stating any referendum would go in the favour of the aquarium.

Nightingale said polling had shown support for the aquarium and keeping dolphins in captivity was higher than it has ever been.

"Contrary to what's being said, since 1991 support for the aquarium and keeping whales and dolphins has been climbing and opposition has been diminishing," he said.

However, Nightingale doesn't want a referendum, which would occur in 2008, because he wants the expansion to be complete in time for the 2010 Winter Olympics, so he can get government funding.

"Our discussions with government clearly point out that like a lot of things in Vancouver, 2010 is a magic date that everyone is working to," he said.

The aquarium has already stated it wants to acquire more dolphins for its collection.

Parks board chairwoman Heather Holden left the meeting and did not discuss or vote on the issue because she is a senior aquarium employee.

The aquarium generated almost $25 million last year and has assets worth $25 million.

The outcome of last night's parks board vote was not known by

The Province's deadline.

dcarrigg@png.canwest.com
© The Vancouver Province 2006

---

Parks board will not let public have aquarium say

The Province
Published: Wednesday, May 31, 2006


In Quotes

"Rescinding past promises to restrict aquarium expansions is a violation of the democratic process and a major step back to the barbaric dark ages of imprisoning animals."

- Animal-rights advocate Peter Hamilton, of Lifeforce, opposes the controversial expansion plans of the Vancouver Aquarium.

© The Vancouver Province 2006


Parks board will not let public have aquarium say

Ian Austin, The Province
Published: Wednesday, May 31, 2006

After a long, bitter meeting, the Vancouver parks board has dealt the Vancouver Aquarium a major boost in its bid to expand.

With detractors in fierce opposition, the board has decided that the public will not be given a chance to vote on the expansion -- or whether it's appropriate to keep large marine mammals in man-made pools.

"What we have is a concept," said aquarium president Dr. John Nightingale. "We have to turn a concept into a proposal."

The aquarium plans to expand by about 30 per cent, converting much of the area that used to house a zoo into new habitat. The board rescinded a long-standing requirement to hold a public plebiscite on expansions.

"We won't have orcas, but we'll have more room for dolphins and belugas," said Nightingale, who said he wasn't sure how the board would vote. "I'm a biologist, not a politician. With animals, you can predict behaviour. With politicians it's a bit more difficult."

The board's decision was condemned by animal-rights groups.

"Rescinding past promises to restrict aquarium expansions is a violation of the democratic process and a major step back to the barbaric dark ages of imprisoning animals," said Peter Hamilton of Lifeforce.

Susan Berta of the Orca Network said the decision excludes a public voice in the decision. "The public needs to have a say in not only the expansion plans of the aquarium in Stanley Park, but on the captivity of whales and large cetaceans," she said.

Janos Mate of Whale Friends also disputed the board's decision: "The issues are the proposed expansion of the aquarium, which will essentially convert public property into private lands, and the cruel practice of keeping whales and dolphins in captivity," he said.

iaustin@png.canwest.com
© The Vancouver Province 2006


---
Aquarium debate shows need for major park review

The Province
Published: Wednesday, May 31, 2006

The keeping of wild creatures in captivity, at least in part for the amusement and/or education of humans, is always fraught with controversy.

In the case of the proposed expansion of the Vancouver Aquarium, the issue is further complicated by the fact that it is situated within the precincts of Stanley Park, one of our city's great treasures.

How to reconcile the competing demands of park lovers, animal-rights activists and supporters of the aquarium is the task of the commissioners elected to serve on the Vancouver parks board.

One problem for the board, though, is that in 1995 it passed a motion requiring a plebiscite to be held before any further expansion of the aquarium could take place.

In a vote late Monday night, the commissioners reneged on that pledge.

They decided that the parks board, not the public, would decide on whether to proceed with an ambitious, $80-million expansion that would increase the aquarium's "footprint" in the park by 30 per cent.

In general, we are not in favour of referendums to determine issues that rightly fall to those we elect to make decisions on our behalf.

But, given the 1995 commitment, it's easy for critics to conclude that the board has an obligation to fulfil its earlier undertaking.

The issue is further complicated by the objections of those who believe that keeping dolphins and belugas in captivity is cruel.

Last year, they too were promised a plebiscite in 2008 to decide whether the display of such creatures should be phased out.

On Monday, the board also decided against holding that plebiscite.

Aquarium boss John Nightingale is confident that most folks support his plans and want the dolphins to remain on display.

If Nightingale is right, he would have nothing to fear from such a plebiscite.

Indeed, the aquarium can make a powerful educational case for continuing to exhibit its captured cetaceans.

Clearly, there are issues at stake here in which the voice of the public should be heard.

We believe that a comprehensive public-opinion survey on the future of Stanley Park, and the aquarium's role within it, is long overdue.

Safeguarding this priceless waterfront wonderland for the enjoyment of future generations is a matter of concern for all Vancouverites.
© The Vancouver Province 2006


---
Aquarium plan making waves
Stanley Park's marine science centre's expansion, draws fire as it leaps hurdles
Proposed changes to the east side of the Vancouver Aquarium would occupy this paved area and see removal of orca sculpture.

Nicholas Read, Vancouver Sun
Published: Wednesday, May 31, 2006

The Vancouver Aquarium that welcomes the world in 2010 could look appreciably different from the aquarium that greets the city today, says president John Nightingale.

It would be 27-per-cent bigger and it would include three major exhibits instead of two.

But that depends on 1) whether approval for the proposed changes are granted by the Vancouver park board, and 2) whether the estimated $60 million to $70 million it will cost to effect the changes can be raised.

The first hurdle was removed Monday night when the NPA-dominated park board voted 4-2 to rescind a 1995 board decision demanding that any proposed aquarium expansion must be put to a referendum first. (The 1995 board was also dominated by the Non-Partisan Association.)

On Monday night, the board also rescinded an accompanying resolution made by the previous Coalition of Progressive Electors-dominated board that a referendum on keeping whales and dolphins in captivity be held in 2008.

Nightingale insists that even without the referendum, the public will be consulted before any expansion takes place, but that it will take the form of a formal public-consultation process organized by the aquarium and the park board.

Critics say the consultation, which will be financed primarily by the aquarium, will be arranged to ensure that approval is granted, and that regardless of what Nightingale says, the expansion is a fait accompli.

"I think the park board represents the aquarium's interests over the people who elected them and pay their salaries," said Kelly Bunting, a spokeswoman for the Coalition for No Whales in Captivity, an organization that opposes keeping whales and dolphins for public entertainment.

"The board should represent the public, but it's clear the aquarium calls the shots."

Nightingale said even though board chairwoman Heather Holden is an aquarium employee (Holden excused herself from Monday's vote), the aquarium has no influence with the board. He insisted there is no guarantee the aquarium's expansion plans will be approved. But if they are, he said they will include:

- Rebuilding the current Wild Coast pool for a new exhibit of Steller sea lions, sea otters and sea birds.

- Building a new pool for the current Wild Coast exhibit on land that was once occupied by the Stanley Park Zoo.

- Enlarging the Arctic Canada Exhibit and pool where the four beluga whales are kept.

Currently, the aquarium has four dolphins on show, but hopes to add at least three more.

Nightingale also plans to move the salmon run exhibit into the Wild Coast pool and to introduce beavers into that show as well.

He said he hopes construction can begin on the expansion next spring in time for a summer 2009 completion.

NPA board member Martin Zlotnik, who introduced the motion to rescind the referendum, also denied the expansion is a done deal.

"There's nothing certain here," Zlotnik said. "The only certain thing is that if they bring forward an expansion request, they will have an opportunity to present it to the public."

Nightingale said he hopes to have a public proposal ready within the next few months.
But COPE commissioner Spencer Herbert, who voted against rescinding the referendum, said he believes democracy took a hit Monday night when the board denied the public its right to vote on a bigger aquarium.

"For me, it was never about yes to the expansion or no to the expansion," Herbert said. "It's too early to get into that. For me, it's about Vancouverites having the right to vote on the expansion of the aquarium.

"[The referendum] was a way of making sure everyone was involved. It was a way we could deal with it in a way that would keep the public trust."

But Nightingale said the aquarium couldn't wait for a referendum -- the next election isn't scheduled until 2008 -- because it hopes to raise money for the project by tying it to the 2010 Olympics.

He said he hopes the federal, provincial and municipal governments will provide some of the necessary funding, and that the rest will come from the public.

However, he couldn't say how he expects those contributions to be broken down.

Zlotnik said a referendum isn't necessary because it's the responsibility of commissioners to make decisions, not refer them to the public.

"It's the right process," he said. "I don't understand why people think you elect people to sit around and say, 'We can't make a decision, so let's send it to a referendum.' "

Herbert said the matter was first brought to the board's attention two weeks ago at a committee meeting, so there was hardly any time for anyone to consider it carefully.

He also said it "felt" to him as if the aquarium was putting pressure on the board, but added: "I hope they'll prove me wrong."

Nightingale said the expansion would occur on land now occupied by a statue of a killer whale outside the aquarium entrance (it would be moved, he said), as well as the current location of washrooms and a hamburger stand immediately east of the aquarium entrance.

It would represent about half an acre of land.

Jim Harvey, former chairman of the Friends of Stanley Park organization, said Monday's decision represents another significant cut into the park.

"This is what Vancouver is all about," he said. "It's either a city that's surrounded by nature or it's a modern city that's going sky-high with concrete. That's what the aquarium is. It's a concrete menagerie of pools. It's so bothersome to me."

Zlotnik said losing half an acre of the park didn't concern him. "Do you know how many acres there are in Stanley Park? [1,000] What you're suggesting is that we don't have any other things in Stanley Park."

nread@png.canwest.com
© The Vancouver Sun 2006


---
Letters to the editor

Luxury fish hotel


Letter
Published: Wednesday, May 31, 2006

The Vancouver Aquarium wants to spend $80 million for a luxury hotel for a bunch of fish.

Yet we have human beings lying in cots in the hallway at Vancouver General Hospital.

How idiotic.

Jim Nicholson,

Princeton
© The Vancouver Province 2006
--------------------------------------------------------

Public needs a say


Letter
Published: Wednesday, May 31, 2006

The public needs to have a say on not only the expansion plans of the aquarium in Stanley Park, but also on the captivity of whales and large cetaceans.

I applaud the Vancouver Aquarium for deciding not to keep orcas in captivity, but it should extend this rule to belugas and dolphins.

Any action that takes away public control is something to be wary of.

Susan Berta,

Orca Network
© The Vancouver Province 2006

--------------------------------------

Vote robs public of real input on aquarium

No Whales In Captivity volunteer Rob Light, aka "Bobbie Beluga," demonstrates against keeping whales and dolphins in captivity at the Vancouver Aquarium.


Letter
Published: Wednesday, May 31, 2006

The Vancouver parks board has shown contempt for the democratic rights of the public as well as for the work and decisions of previous park boards.

It has rescinded provisions that allowed Vancouver citizens to vote through plebiscites on two important matters concerning Stanley Park.

The issues are the proposed expansion of the aquarium, which will essentially convert public property into private lands, and the cruel practice of keeping whales and dolphins in captivity.

A plebiscite would help the aquarium. It sits on public land and exists through the largesse of the people of Vancouver.

A plebiscite would help the aquarium shape its long-term plans in harmony with the sensibilities of the citizens of the city.

According to the parks board and the aquarium, citizens can now have input through "appropriate public discussion."

What rubbish.

Does anyone truly believe that such public discussion will be anything more than a dog-and-pony show, a charade?

The fix is in.

The aquarium will expand, and more whales and dolphins will end their lives living under inhumane conditions in concrete tanks in Stanley Park.

Janos Mate,

Whale Friends
© The Vancouver Province 2006


Letter
Published: Wednesday, May 31, 2006

Good news - bad news.

I'm still reeling from the Park Board's shameful reversal on Monday night of resolutions requiring plebiscite votes on Aquarium expansion and the
question of whether or not to keep whales in captivity - and wondering why the Park Board and the Aquarium are so afraid to let Vancouverites vote on this issue. Today's cover story, regarding the Cruelty to Animals charge laid on the Vancouver Zoo has somewhat restored my faith in human nature and our ability to recognize the cruelty and hardship we inflict on animals which are held in captivity. Good on the Humane Society and the SPCA for being advocates for these poor creatures .

Lynn Johnson
Coalition For No Whales In Captivity

© The Vancouver Sun 2006



---
Aquarium president told staff that parks board didn't want dolphin
Vancouver Courier -- published on 06/09/2006

Aquarium president told staff parks board didn't want dolphin

By Sandra Thomas-Staff writer

According to a document obtained by the Courier, the former parks board refused to give the Vancouver Aquarium permission to import one of two Pacific white-sided dolphins that arrived here from Japan last October.

Despite the lack of permission, the aquarium imported the 11-year old dolphin, later named "Hana." Unbeknownst to aquarium staff, Hana was pregnant at the time and on Wednesday night gave birth to a dead calf.

Kelly Bunting, a spokesperson for No Whales in Captivity, said it's possible the stress of being shipped from Japan to Vancouver contributed to the calf's death.

"Moving a dolphin is incredibly stressful," she said. "It's thought to be as stressful as the initial capture. That couldn't have been good for her. Of the seven dolphin pregnancies we know of at the aquarium, six have resulted in death."

According to the aquarium, both Hana and 17-year-old Helen were badly injured after being trapped in fishing nets, and were transferred to the Enoshima Aquarium in Japan for rehabilitation. Helen had to have portions of her front flippers amputated after she arrived in 1996, while Hana was emaciated and suffering from starvation when she arrived at the Japanese aquarium in 2003. It cost the Vancouver aquarium $200,000 to buy and transport the dolphins.

According to an internal memo written by aquarium president John Nightingale in October and distributed to aquarium staff, the parks board wrote him a letter before the dolphins arrived stating that in staff's opinion "this dolphin [Hana] is not permitted, and they requested that we not bring her into Vancouver. The park board has not yet consulted the city legal team."

The memo continues, "You may see this issue of 'legality,' debated in the media. Don't worry a great deal about this temporary issue, but please take the time to set people straight as you may hear misinformation and distorted facts being voiced. Given the 'political season' [municipal election], we know this issue will be the subject of considerable coverage, and given the history of distorted and inaccurate charges by various extremists, we can expect the coverage will not always be balanced or straightforward. Your management team and executive committee believe we are acting just as we should-we are ensuring that we continue to hold, display and interpret Pacific white-sided dolphins, and we are doing it_ within the agreements we have made. We will continue to operate the aquarium in the best interests of the animals, the institution and the people who support and rely on us."

Bunting said the coalition obtained the memo from an aquarium staff member who disagreed with the aquarium's decision to import the dolphin. Nightingale agrees the comments were taken from an internal staff memo, but adds there is nothing untoward in the comments.

"We were in the middle of a municipal election," he said. "People said to me 'Are you nuts doing this now?' But we had to move the dolphins before the weather got any worse."

He adds the parks board did write the aquarium asking staff to hold off with plans to bring Hana here. "But we wrote back and said we couldn't comply. We knew we were within the letter and spirit of the bylaw and because of the timing we had to act then," he said. "As long as we meet the conditions laid out in the bylaw and have permission from the [federal] government, we can import dolphin."

On Tuesday night the coalition made a presentation to the board's planning committee asking it to take legal action against the aquarium. The group is accusing the aquarium of contravening Parks Control Bylaw 9 (e), as well as conditions of the aquarium's lease by importing the dolphins. Bunting said if the parks board is not prepared to take legal action against the aquarium, the coalition will take legal action against the parks board for not following the bylaw if it doesn't proceed against the aquarium.

Nightingale said the coalition approached the parks board with a similar request two years ago, but was ignored. "Anyone can say they're going to bring legal action," he said. "But so far all I've seen is the coalition's press release." Former parks commissioners Anita Romaniuk, who is out of town, and Heather Deal did not return phone calls before the Courier's press deadline. Deal was elected to council last November. COPE commissioner Loretta Woodcock, who sat on the former board, is also out of town and unavailable. As well, commissioner Alan De Genova, who also sat on the former board, did not return a phone call before the Courier's press deadline.


---
Aquarium parties terrify dolphins
Letter
It will always be a sad day at the aquarium as long as free roaming whales and dolphins are kept in captivity.

Your article failed to mention that the pregnant dolphin was so terrified by the recent loud music and party at the aquarium that it jumped out of the water and onto the concrete, ---- presumably injuring the baby within her.

Keeping whales and dolphins in captivity for human entertainment is intrinsically evil.

Karl Losken
North Vancouver

---
14 Aquarium paid-for articles

Aquarium There is nothing like it

'There was nothing like it'

Canada had never seen an aquarium before June 15, 1956 -- the day a huge crowd rushed the doors on opening day at the Vancouver Aquarium. The dream of a small group of scientists, a timber baron and a local politician had become reality, and today the facility can rightly claim to have changed the way we look at animals from the sea. The era of keeping orcas at the Vancouver Aquarium is over, but scenes like this one in 1985 have provided great thrills over the years.

It's had great successes and tragic disappointments, but most of all it has endured.

The Vancouver Aquarium is 50 and, like a longtime friendship, it's had its good times and its challenges. But from humble beginnings in a time when few Vancouverites had ever laid eyes on an octopus -- never mind a killer whale -- it's earned a place on the world stage of aquatic animal care.

And with every step forward, every celebration of birth and every mourning in death, controversy and protest have never been far behind. Animals evoke perhaps the deepest of human emotion and keeping them in captivity is just one of the many issues the aquarium faces.

Despite its critics, aquarium founders and current staff take great pride in having united humans with the mysteries of aquatic life and having created concern for their underwater world. Without being in the presence of the tiny, huge, beautiful and ugly creatures that live at the aquarium, it's not known how much care and concern there would be for those living in the sea.

Like it, love it, hate it or don't care at all, the aquarium shows no signs going away and if all goes according to plan, it'll only get bigger.
-------------------------------------------------------------
The 50th anniversary has many people reflecting back on the day the doors opened on June 15, 1956.

Murray Newman, the aquarium's first curator who served as director until 1993, remembers being overwhelmed by the opening day crowd.

"It was an innocent period in history where there was a lot of goodwill and a lot of co-operation and great interest in the project," says Newman, who was a 32-year-old University of B.C. graduate student in fisheries at the time.

"We had a very small staff and it was chaos on opening day. We were enlisting everyone to help us."

The biggest problem -- the saltwater system. The original intake pipe from the harbour, located near Lumberman's Arch, lay too shallow and too close to shore. The water would be too warm in the summer and, in spring, too much fresh river water would get pumped in.

With no control over the temperature or salinity of the water, it was difficult to keep the animals alive. The problem has long since been fixed and there are now two intakes in First Narrows Inlet, both 13 metres down at the lowest tide.

More than 10,000 people flooded the aquarium in its first 48 hours and since then it's hosted more than 33 million visitors. Kids got in free back then; adults paid 25 cents.

"There was no controversy in the beginning," says Newman, now 82. "People were just thrilled. It was beyond their expectations."

Opening day was the culmination of an idea hatched by a group of fisheries and oceanography professors at UBC that included Newman, Carl Lietze and Dr. Wilbert Clemens. They enlisted the help of timber baron H.R. MacMillan and alderman and businessman George Cunningham.

They formed the Vancouver Public Aquarium Association in 1951 and eventually convinced the city, the province and the federal government to pitch in $100,000 each for startup capital. It was the first public aquarium in Canada.
"There was nothing like it," says Newman. "Within just a few years, we knew we had to enlarge it."

The animals displayed had mostly been caught in local waters. The most popular was a giant sea turtle borrowed from the Waikiki Aquarium.

Dr. David Hoar, a retired geneticist and a member of the aquarium board, has vivid memories of the aquarium's first days. His dad, Bill Hoar, was a UBC zoology professor and part of the group that instigated the aquarium.

"I remember Murray phoning up shortly after they opened, in desperation, because the floors were awash in peanut shells, popcorn and cigarette butts," recalls Hoar, who got hired as a 13-year-old to sweep up garbage for 50 cents an hour. "In those days, people just dropped stuff around them."

With his money, he bought a scuba set and started collecting specimens for the aquarium -- including octopus, which he found under the ferry dock in Horseshoe Bay.

Hoar tells a hilarious story of capturing a huge octopus -- six metres from tip to tip -- near Lighthouse Park.

"I was with a friend who had a VW Bug and we ran up to one of the neighbours in the area and borrowed a garbage can, filled it with seawater, lumped in this huge octopus," says Hoar. "Arms were coming out and we had to keep pushing the arms back in. It was sitting in the passenger seat. Eventually, we got it to the aquarium."

When he visits the aquarium Hoar still sees parts of the original building, but he's amazed at the "phenomenal maturation."

"Some of those displays just take your breath away," he says. "You can stand there in front of that North Pacific tank and you can almost feel like you are there."

Newman believes the aquarium's most far-reaching work followed the live capture of Moby Doll, a killer whale captured off Saturna Island in 1964.

Moby Doll, the first killer whale to be exhibited anywhere, lived for 86 days in a net pen near Jericho Beach. Until then, orcas had been considered vicious killers or pests who ate salmon fishermen wanted to catch. In 1960, the federal government even considered shooting killer whales with a .50-calibre machine gun near Seymour Narrows.

"Nobody had ever seen one alive. We brought it to the attention of the public," says Newman. "Now the killer whale is almost a sacred animal. Once they become popular in the aquarium, the public becomes very interested in their protection."

Newman's successor as president, John Nightingale -- they are the only two people to have headed the aquarium in its 50 years -- takes just a moment to reflect on the anniversary, since he's focused on the future.

"It's a milestone and yet it's just another day in another month and another year in an ongoing progression," says Nightingale. "It's all about what comes next."

Work is finishing on the $22-million education centre, due to open in October. The building, along with a $3.3-million research wing completed last year, expanded the aquarium by 4,000 square feet.

Provincial and federal government capital grants made up $11 million of the cost of the education centre; the rest was raised in the community. The research wing was funded by $2.3 million in private donations and $1 million from government grants.
The aquarium has had assistance from government numerous times, but Nightingale stresses that it has never received an operating subsidy. And he admits that if the parks board approves an $80-million rebuilding that will increase the size of the aquarium by 25 per cent, "huge and significant help from government" will be required.

"A lot of it isn't very sexy. What donor wants their name on a footing four storeys down in the ground?" says Nightingale. "We still expect to raise $10 or $20 million on our own in the community."

The aquarium relies largely on admissions, memberships, income from the gift shop and concessions for operating revenue. They also receive private donations, research grants and capital grants. Last year, they brought in nearly $27 million and spent $20.5 million on everything from staffing to animal care and interest on their debt.

Until 1999 the aquarium, in its licence agreement with the park board to occupy the site, paid $1 a year. Since then they pay rent on a sliding scale that started at $40,000 a year.

One of the aquarium's most active critics, Annelise Sorg of the group No Whales in Captivity, calls the 50th birthday "a very sad occasion."

"To me, it's 50 years of cruelty," says Sorg. "Fifty years of taking over Stanley Park. Fifty years of incarcerating animals of all sorts to entertain and make money."

Sorg sees no benefit in displaying ocean creatures. She does, however, say displaying "mechanical and virtual ocean creatures" would be useful. The technology exists, Sorg said, to use film, photography and sculpture to show ocean life.

"People's hearts and minds are not being reached in a compassionate and in a real conservation-minded way," she says. "The problem is that they are being reached with these glitzy shows where people want to sit in the front row to get splashed, where the whale waves at them and spits water at them. This is not education, this is entertainment."

Nightingale says the aquarium is considered one of the top five in the world not because of flash but because of "layers and layers of programming that are built around a very modest physical facility."

Newman believes controversy will never go away and is puzzled by the attitudes he encounters.

"There's this strange business that nobody has any sympathy for a dog fish shark until it goes into the aquarium," he says.

Newman adds that if a fisherman, who has contempt for the shark, catches one and throws the bleeding fish in the bottom of his boat, no one cares. "And once they are in the aquarium, they see this thing as an organism, they see it as a living being. People develop empathy watching living things in the aquarium. It's profound. This is why zoos and aquariums are important."

---
BELUGAS GIVE FAMILY A KEEPSAKE FOR ALL TIME

White Rock dad Rice Honeywell took his kids to the aquarium recently, lining them up in the beluga viewing area for the photo on our cover this week.

Says Honeywell: "I now use it as my desktop on my computer as a reminder that they're growing up fast, and that if I want to spend more fun days like this, I'd better do it soon before they all grow up and start exploring their own horizons."

The Honeywell kids in the picture are, from left, Hanlan, 17; Jess, 15; Shannon, 12; and Nate, 10.

"Although their mom couldn't be with us that day, it will always be a treasured memory of a time when I had them all under one roof," says the proud father.
© The Vancouver Province 2006
---
10 picks for the pool of fame
The Province's Lora Grindlay looks back at 10 of the Vancouver Aquarium's most memorable animals.

Cuddles
Species: American crocodile
The story: At 1.58 metres, he was the largest of five collected during a 1962 expedition to Mexico.
An X-ray in 1972 showed a grapefruit-sized mass in his stomach. Ice and refrigeration were used to decrease his metabolism -- instead of using anesthetics -- for the operation. When a veterinarian reached into Cuddles' stomach, she pulled out more than three pounds of pennies, flashbulbs, buttons, marbles and one expended rifle shell -- all the result of people throwing things at the crocodiles to get them to move.

When Cuddles got too big, he was shipped to the Toronto Zoo.

BJOSSA
Species: Killer whale
The story: Captured with Finna in Iceland in 1980 and brought to Vancouver. In her 21 years in Vancouver she gave birth three times, but had no success nursing her calves. All three died. Finna was her last companion and after he died in October 1997, she was the lone orca. Bjossa was given to SeaWorld San Diego in April 2001 when a companion couldn't be found. Her departure ended 37 years of orcas at the aquarium. After becoming ill in San Diego, she died after an apparent stroke on Oct. 8, 2001, at the age of 25.

QILA
Species: Beluga whale
The story: The first Beluga conceived and born in a Canadian aquarium. Born to mom Aurora -- and father Nanuq, who has since been moved to SeaWorld in Texas -- on July 23, 1995. Qila remains at the aquarium.

COELACANTH
The story: Bought by aquarium officials on the Comoro Islands off Africa in 1971. After hiring two different groups on the island to catch one of the elusive fish, even enticing them with the promise of a trip to Mecca if they were successful, the officials wrangled government permission to buy a preserved one. They bought a 77-kg female that measured 1.6 metres long.
It had been captured in 1970 near Anjouan Island at a depth of 300 metres.

The rarest of ocean fish, it's on display near the gift shop at the bottom level of the Strait of Georgia exhibit.

Fossilized coelacanth remains are seen in ancient rock, first appearing about 400 million years ago, although they were believed to be extinct until 1938, when one was caught by South African fishermen. They are considered a missing link between land and water animals -- they have lungs and fins supported by jointed bones.

TAG
Species: Steller sea lion
The story: Tag was just a tiny two-week-old when he arrived from B.C.'s Scott Islands. He is now 13 years old, 787 kilograms and very boisterous. He is an ambassador for his wild counterparts through his role in an ongoing research project involving the aquarium, the University of B.C. and the North Pacific Universities Marine Mammal Research Consortium. The group is working to determine why the Steller sea lion population around Alaska has declined by more than 80 per cent since 1980.

SKANA
Species: Killer whale
The story: Began her life in a tank at Vancouver's Boat Show, on the PNE grounds, in 1967 after being captured in Puget Sound. The aquarium paid $22,000 for Skana. Along with Hyak, she was a star throughout the '70s and is embedded in the memories of many Vancouverites. She died at 18, on Oct. 5, 1980, from an internal fungus infection, leaving Hyak alone until the arrival of Finna and Bjossa that December.

KAVNA
Species: Beluga
The story: Captured for the aquarium in Churchill, Man., in August 1976 along with another beluga, Sanaq. By spring 1977, staff came to believe she was pregnant and sure enough, in July 1977, she gave birth to Tuaq, who died Nov. 2, 1977 of a massive infection. Tuaq had been conceived in the wild.

Kavna remains at the aquarium -- her home for nearly 30 years. A kiss she once gave children's entertainer Raffi inspired his hit song, "Baby Beluga."
_________________________________________________________________________________
NOTE: What they fail to mention is that the song goes "Baby Beluga, swimming free in the sea..." Raffi is dead set against whale captivity.
_________________________________________________________________________________

WHITE WINGS
Species: Pacific white-sided dolphin
The story: Originally named Diana, White Wings was a valued companion to both Hyak and Bjossa when they were the lone resident orcas. She was captured in Baja, Mexico in 1971 and came to the aquarium from Marineland of the Pacific in California.

She lived for 31 years at the aquarium before dying at 36 in January 2002. Since 1997, White Wings had suffered indigestion due to her habit of swallowing rocks, pine cones and twigs that fell in her pool. She died minutes after veterinarians conducted a procedure to remove the debris from her stomach.

NYAC
Species: Sea otter
The story: Is one of only seven rehabilitated sea otters left in North America who survived the Exxon Valdez oil spill. She was one of six victims of the 1989 oil spill in Prince William Sound sent to the aquarium as part of a study into the long-term effects of oil on otters. She was in rough shape when she arrived, but later gave birth to a pup named Kipnuk, who was moved to an Antwerp, Belgium aquarium. Now 16, Nyac lives with Milo and you can often see the pair holding hands while sleeping.

MOBY DOLL
Species: Killer whale
The story: This male killer whale was the first orca ever exhibited in public. Harpooned by hired hunters near Saturna Island in 1964, he only lived 86 days. Aquarium officials wanted an orca to use as a model for a whale sculpture. He survived the harpooning, was towed to Vancouver and was exhibited in a water pen at Jericho Beach until his death.

He garnered worldwide attention there. Many were struck by his calm, docile demeanour as the whales had always been considered dangerous killers.

lgrindlay@png.canwest.com
© The Vancouver Province 2006
---
Aquarium's vet bids farewell
After three decades of nurturing animals Dave Huff says goodbye to the best job he ever had
Dr. Dave Huff and volunteer Irving Lau weigh a green sea turtle named Schoona. Huff recently stepped down as head aquarium veterinarian.

Dr. Dave Huff and volunteer Irving Lau weigh a green sea turtle named Schoona. Huff recently stepped down as head aquarium veterinarian.
Photograph by : File photo by Ric Ernst, The Province

Lora Grindlay, The Province
Published: Sunday, June 11, 2006

There was a time when Dave Huff only treated cats and dogs at his Marpole veterinary clinic. Then two things happened that dramatically altered the course of his career: Sick birds, snakes and other exotic creatures began coming through his door, and he was asked to volunteer half a day a week at the Vancouver Aquarium's Amazon Gallery.

That was 30 years ago and Huff, now 60, says his life has been enriched by the people and animals he's worked with as head aquarium veterinarian. As he bids farewell to three decades of doctoring Vancouver's favourite marine animals, he spoke with The Province's Lora Grindlay, reflecting on the ups, downs and one very special night he will remember forever.

My veterinary practice was one of the first to treat birds and, when you start to treat birds, people start dragging in lizards and things like snakes. You get a reputation for doing the exotic and at that time Gill Hewlett's dog -- Hewlett was the aquarium's curator -- was a client of ours.

One day, Hewlett suggested they'd love to have me at the Amazon Gallery a half-day a week. I knew the aquarium's reputation, so it was a tremendous plum to be asked. I said sure. Lots of veterinarians want to get into that field because it is so fascinating but it's difficult to break into.

Since then, I've spent a lot of time at the aquarium and when I look back there are two absolutely spectacular things that stick in my mind.

I still carry around this vision of one Christmas night when we had K'yosha, who was our second killer whale calf. Her mom, Bjossa, wasn't nursing her so we were handfeeding her formula.

That night, after I had my Christmas dinner, I went in. You would jump in the pool with your dry suit on and she knew to come right over because it was feeding time. She would open her mouth, you would pass the tube down and give her a few litres of formula. Then the fun part. Along with providing nourishment, we had to become emotional caregivers. We had to spend bonding time with her. I would push myself off the side of the pool, float around and she would come over and nuzzle up.

There I was, lying there on a perfectly clear, cold Christmas night, looking up at the stars -- just me in the pool with the steam coming off the water and a killer whale calf nuzzling up to me.

It was almost mystical and a fabulous, fabulous thing. I will remember that forever.

K'yosha lived for 90 days, longer than any other killer whale has lived while being hand-fed formula. The day she died we basically laid on the pool deck and cried. It was just terrible because it was so sudden -- she went bad in a few hours.

We had witnessed K'yosha's birth, taken on the responsibility at two or three days of feeding her because mom wasn't doing it. You just can't be divorced from the emotion of it all.

The second most memorable time was taking Springer home. She was the orphaned killer whale found in the ferry lanes between Seattle and Vachon Island. She would follow the ferry back and forth to the point where it was very dangerous because she showed no fear.
The National Marine Fisheries Service asked if we could monitor the situation. I went down every three weeks and we would go out on a boat, find her and check her out. The key point came when she came over one time, got right up against the boat and she took a great big breath of air and then blew.

It smelled like acetone -- like paint thinner. It's the kind of smell a veterinarian recognizes, called ketosis. If you give off that odour you are starving.

We started making plans because it was very obvious she wasn't going to survive.

Statistically, singleton, toothed whales and dolphins don't manage to live. They need so much nurturing, education and so much leading by their moms. Though they are big, flashy and mean-looking -- and have a mouthful of teeth -- for quite a few years they are absolutely helpless little babies.

It was decided we would mount a capture, try to find out what was wrong with Springer, try and fix her and, if all that worked, take her back up north and try to sneak her into her pod. It was an incredible undertaking.

We managed to capture Springer and put her in a net pen on Vachon Island. We dewormed her, got her eating, and did several tests that indicated she was healthy.

We transferred her in a big fiberglass tub of water on a barge to a net pen on northern Vancouver Island, thinking, hopefully, one of the pods we figured would take her would wander by. The morning after we put her in the pen, all three choices for the very best pods to reunite her with were together, about a quarter mile off, vocalizing with her. It was enough to give you goosebumps. It just seemed too easy. We lifted the gate and she dashed off.

Within 48 hours they were all together. Every year since, she has come back with that group. It's an absolutely amazing success story.

I will terribly miss the animals and the people who look after them. That sounds trite and obvious but it's true. Being associated with people who are so passionate was a true honour. My life has been enriched tremendously by the aquarium. I've had dozens of fabulous adventures. These are things I never, ever would have had the chance to do. I value every minute I spent there. I have absolutely loved all of it.

lgrindlay@png.canwest.com
© The Vancouver Province 2006

---
Volunteers keep aquarium afloat
Lora Grindlay, The Province
Published: Sunday, June 11, 2006

Walking on a Tsawwassen beach with her two young boys in the mid-1960s, Nikki Clouthier was amazed at all the creatures lurking in the low tide that spat at her.

Clouthier had no idea what they were. Although she had been a competitive swimmer most of her life, she knew nothing about the ocean or what swam in it.

Her curiosity is what drove the 33-year-old mom to answer a radio appeal for Vancouver Aquarium volunteers in 1967.

The now 75-year-old is the longest-serving aquarium volunteer and, since 1967, she's put in "10,300-and-something" hours.

That's the equivalent of nearly 1,300 eight-hour days or an eight-hour shift every day for 3.8 years.

Clouthier says she will continue spending some of her free time at the aquarium "forever."

"It's something I would really feel bad giving up. It would be a big part of me that's not active anymore."

Clouthier's time there has been a lot like life. The highs were the births and the babies. The lows were the deaths.

Her first duties involved giving tours to Grade 8 students; then she worked with students in the wet lab among sea water-filled pans of sea stars, sea cucumbers and other invertebrates.

But one of her most memorable experiences began in 1971 with the arrival of two orphaned Steller sea lions who had been caught in a fishing net and brought to the aquarium.

They weighed about 11.5 kilograms each and had to be bottle-fed a blend of salmon oil, herring and vitamins.

Clouthier answered the call for volunteer nursers.

"We had to let them crawl all over us between feedings," she recalls. "We wore waterproof clothing. It was to keep them tame.

"They'd come and sit on you, suck on your fingers. We were in heaven."

By 1972, Clouthier began learning beluga training. For 19 years, she did beluga shows for the public.

It was a time when volunteers were able to handle animals, a job done by professionals these days. Clouthier says she was lucky to have been around for that -- without it she doubts she would have been there so long.

"This was a phase of the aquarium that will never come back," she says.

In the early '90s, she became an employee for one day a week, preparing volunteers for the French programs.

"I realized after three years that I was a better volunteer than employee. I wanted to go skiing on Thursdays," she says.

Since 1994, she has manned the Aqua News booth, providing information about global issues affecting the world's oceans, always sneaking in a conservation message.

Clouthier is amazed at how the aquarium has evolved.

"It's incredible. At the beginning it was a sterile place. If you came in with a little kid by the hand, all the habitats were so high in the wall your kid didn't see anything," she says. "Little by little, it has become so friendly, such a nice place to be."

While defending the presence of aquariums, Clouthier admits witnessing animals in captivity is often uncomfortable.

"I don't like seeing, nobody likes to see, animals in captivity," she says, adding that aquarium animals are given extremely good care.

"Skana used to get greeting cards, get-well cards from the kids who had come on tours of the aquarium. You can tell that's reaching really deep into the education of these kids.

"The difference between learning about something in a book and being there to see the actual animal certainly has the utmost value."

As far as witnessing aquatic animals in the wild, Clouthier has tried it with little success.

"We can't see them, really. I lived in Tsawwassen for 25 years and I would rush my car down to Point Roberts if I heard the killer whales were there and, believe me, in 25 years I didn't see them very often."
---
VOLUNTEERS ARE VITAL

The Vancouver Aquarium's volunteer program is a vital part of its operations.
It began the day the doors opened in 1956, when the huge crowd overwhelmed the five staff members. Volunteers were enlisted on the spot and the program has been operating ever since.

Last year, 890 people donated more than 50,000 hours and it's guessed that more than 5,000 people have volunteered more than one million hours in five decades.
© The Vancouver Province 2006
---
Ten other great aquariums to visit

NOTE-- 8 out of these 10 "great aquariums" have NO CAPTIVE WHALES OR DOLPHINS ON DISPLAY ---- and one of the "great aquariums", THE MYSTIC AQUARIUM apparently is a rescue and rehab centre. The only two "great aquariums" torturing whales and dolphins are the SHEDD AQUARIUM and SEAWORLD CORPORATION. Shame on them.
---
The Province
Published: Sunday, June 11, 2006

The Vancouver Aquarium is consistently rated one of the top 10 aquariums to visit -- and among the best in the world (which means they're all accredited by the Association of Zoos and Aquariums for high standards of animal care and husbandry). Where are the others?

- John G. Shedd Aquarium, Chicago: Opened in 1929, one of the oldest in the world. Re-creates environments from the Amazon River, Africa, Australia, Great Lakes and reefs of the Caribbean and the Philippines. More at sheddaquarium.org

- Sea World, San Diego, Calif.: Big and flashy, entertains as it educates. See Shamu the orca, sharks, polar bears and penguins. Has a new killer-whale show. More at seaworld.com

- Shark Reef, Mandalay Bay, Las Vegas: Two glass tunnels, 10 varieties of sharks and fish swim above, below and on both sides of you. Salt water manufactured by mixing imported salt with dechlorinated tap water. More at mandalaybay.com

- Monterey Bay Aquarium, Monterey, Calif.: In an old cannery, full of all things that live right outside in Monterey Bay. Spot a whale passing in the bay from an outside deck. More at mbayaq.org

- National Aquarium, Baltimore, Md.: 10,500 specimens, 560 species. Full-range aquarium with everything from stingrays, skates and frogs to dolphins and a Giant Pacific Octopus. More at aqua.org

- Tennessee Aquarium, Chattanooga: Toads, seahorses, sharks, salamanders, and river otters. There are river journey and ocean journey exhibits, and a rainforest filled with hundreds of butterflies. More at tennis.org

- Aquarium of the Pacific, Long Beach, Calif.: Celebrates largest, most diverse ocean in the world. Shark Lagoon features more than 150 sharks; 142,000-gallon, three-storey Blue Cavern home to ocean creatures found off the coast of Catalina Island. More at aquariumofpacific.org

- Mystic Aquarium & Institute for Exploration, Mystic, Ct.: Animals and environments from around the world. Rescue and rehabilitate injured marine mammals. More at mysticaquarium.org

- Bermuda Aquarium, Museum & Zoo, Flatts Village, Bermuda: Fifteen per cent of all Bermuda residents are members of aquarium established in 1926. More than 200 species of fish and invertebrates, huge living coral exhibit. More at bamz.org

- South Carolina Aquarium, Charleston: Exhibits focus on five regions of the Appalachian Watershed (mountains, piedmont, coastal plain, coast and ocean). Alligators, sharks, otters, turtles, sea horses, eels and rattlesnakes. State law prohibits dolphins and whales in captivity. More at scaquarium.org
© The Vancouver Province 2006
---
Lance Barrett-Lennard, Special to The Province
Published: Sunday, June 11, 2006

Some of the findings linked to the aquarium in the past 50 years:

NOTE: Are you impressed? We're not!!!

- Killer whales have dialects: Fish-eating killer whales along the B.C. coast live in groups that can be readily distinguished by their unique dialects, or sets of calls.

- Killer whales appear to use dialects to avoid inbreeding.

- Harbour seals are able to tell the difference between a local fish-eating killer whale and a marine mammal-eating one. They do this by a remarkable process called "selective habituation," by which an inborn fear of all killer whale calls is relaxed in the case of calls that are heard frequently in non-threatening contexts.

- Coonstripe shrimp that were bred for 10 generations became quite tame (domesticated) and were white. Whiteness is linked to calmness. The substance that becomes colour also becomes stress hormones in animals. So many farm animals are white because they are bred to be calm.

- After leaving freshwater, young steelhead and sockeye tend to move quickly out of the Strait of Georgia to the open ocean. Before they were tagged and tracked through the Pacific Ocean Shelf Tracking project, we didn't really know how long they stayed in the strait.

- Spot prawns in Georgia Strait use kelp beds as their nursery. This information is important if we want to predict the abundance of these shrimp. Being able to count the number of prawns that settle in nurseries allow for predictions of what we can catch.

-- Source: Lance Barrett-Lennard, Marine Mammal Scientist, Vancouver Aquarium and aquarium researchers
© The Vancouver Province 2006
---
Growing up to respect wildlife
Barbara LaBranche, The Province
Published: Sunday, June 11, 2006

Daniel Loxterkamp made the front pages of papers all over the world when he took a tumble. "My dad was sprinkling some chemicals into the whale pool and slipped, falling in with the dreaded killer whale Skana!" says Jim Loxterkamp of Mission. "People from as far away as Japan sent us newspaper clippings of the event. Dad was famous!" Jim's sister, Barbara LaBranche of New Westminster, also shares her memories of a dad who worked at the aquarium:

I remember very early summer mornings in the early 1970s. My dad would take me to Stanley Park on his way to work. I could wander, swim, play and sunbathe in this giant setting all day long. At the end of the day, about an hour before dad's shift ended, I would wander over to the aquarium where Dad would meet me and let me in the back door.

Each time I entered that door was a new experience. There were the tales of the octopus escaping his tank and Dad wrestling him back in; the trips to the whale underwater viewing areas, first at the "old" pool and then at the "new" one. Dad would whistle for Skana and Skana would swim up to the window and "talk" to him. I truly believe Skana loved Dad as much as he loved her. These times were special and exciting.

Two special moments highlight my memories of this time.

First, the narwhals, captured and held in the holding tanks, not on public view. I was able to kneel next to the pool and stroke their rubbery skin and touch the unicorn-like horn. An experience never to be forgotten.
NOTE: What Barbara LaBranche has conveniently "forgotten" is that the Vancouver Aquarium's greed to make money by displaying narwhal whales or "unicorns of the sea", killed a baby narwhal who was captured in 1968 and shot due to severe rope cuts from the capture, plus six other narwhals who were captured in 1970 and died within four months of bacterial infections and starvation.
Second, and most touching, was the day Skana was hurt while entertaining the crowds. A window in the viewing area had given way, sucking the poor creature through and cutting her badly. That evening, after work, Dad was so concerned about Skana that he returned to work with me in tow. As we entered the pool area I noticed the pool had been drained of water. Concern turned to fear but dad gently nudged me up to the edge of the pool. I could see the bright lights over the suffering mammal, the hose to keep her wet and the vet leaning over poor Skana removing slivers of glass from her body. Bravely, Dad assured me Skana was going to be OK and so, in time, she was. That day I shared the bond that Dad and Skana enjoyed. (Later, Skana saved Dad when he fell into the "new" pool.)

These times gave me a lifetime of respect for wildlife in all aspects of nature. For this I thank my Dad and the Vancouver Aquarium.

-- Barbara LaBranche, New Westminster
© The Vancouver Province 2006
---
Aquarium's actions gave strength to ailing boy
Ruth Parkinson, The Province
Published: Sunday, June 11, 2006

In July 2000, my three-year-old nephew, Mitchell Ho, was diagnosed with cardiomyopathy. He was in severe heart failure and admitted to the Intensive Care Unit at Children's Hospital where his future looked grim.

After several weeks with no response to therapy on the cardiac unit, and much to our shock, the decision was made that he would be sent to Sick Children's Hospital in Toronto where he would likely receive a heart transplant.

In his first three years of life, Mitchell had been a tremendous fan of the Vancouver Aquarium and especially enjoyed his own personal relationship with Bjossa, the killer whale. Based on this, his wish before being transferred was to have another visit to the aquarium.

Due to the fact he was immunosuppressed and very susceptible to catching illness in public places, visiting the aquarium during public hours was not an option for him. I contacted the aquarium and told them my story, with the request that they allow us early entry 30 minutes before opening so we could visit all of his favourite haunts before the rest of the public came in. The aquarium was very accommodating and, after springing Mitchell from the hospital on a day pass, we spent 30 solitary minutes playing with Bjossa in the underground observation area.

It was purely magical and words cannot describe the emotion we all felt knowing what this child would be facing in his future.

I was so grateful for the opportunity that the aquarium offered Mitchell and how therapeutic it was for us as a family to spend that time together. In appreciation I wrote them a letter so they would know the effect their kindness had in the life of one little three-year-old.

Not long afterward, I received a package in the mail including a stuffed killer whale, a postcard of Bjossa and a letter inviting us to come back after he returned from Toronto for a proper tour.

While Mitchell did not receive heart surgery, he stayed in Toronto for three weeks and returned to Vancouver -- and took that private tour. The highlight for Mitchell again was his one-on-one time with Bjossa. We took this opportunity to take many photos of our time together. Just imagine how stunning the photographs were of Mitchell standing in front of the tank of turquoise blue water with dancing shadows. Sound familiar?

Shortly thereafter, the aquarium created an ad of a child standing in front of the observation pool. You can only imagine a three-year-old's excitement at the prospect that he was the child in the photo!

Mitchell is now nine and, despite ongoing challenges with his heart, is a normal kid playing hockey, baseball, karate and any other activity he can fit in.

Our request of the aquarium was originally intended for Mitchell --we did not realize how therapeutic it would be for all of us. I was so touched by the kindness they showed in accepting the request from me and making it as memorable an experience as they did.

Mitchell's belief that he is the child in the aquarium ad has given him so much pride and pleasure. That experience, in addition to his ongoing love of Bjossa, has given him many happy childhood memories to look back on.

Congratulations to the aquarium on their 50th anniversary. I am sure Mitchell looks forward to the day when he can take his own children to visit the place that gave him his strength!

-- Ruth Parkinson, Vancouver
© The Vancouver Province 2006
---
Aquarium invoked memories of home

Chief Bill Wilson tells how that, and a young killer whale, helped him get through UBC
An extraordinary encounter with an aquarium orca in the 1960s comforted Chief Bill Wilson at a difficult time. His mother told him the whale was probably carrying his grandfather's spirit.



An extraordinary encounter with an aquarium orca in the 1960s comforted Chief Bill Wilson at a difficult time. His mother told him the whale was probably carrying his grandfather's spirit.
Photograph by : Jon Murray, The Province


Chief Bill Wilson, The Province
Published: Sunday, June 11, 2006

My story about the Vancouver Aquarium involves Skana, the first killer whale, or orca, who was held and displayed there.

I need to give you some background on myself and my people first. My real name is Hemas-Kla-Lee-Lee-Kla and my people are native Indians from Comox, north to Smiths Inlet, along the Inside Passage.

We still practise the potlatch, our form of religion and self-government. Re-incarnation is one of our strong beliefs. We believe that humans, animals and all of nature's creatures come back in another life form after death.

Chiefs, or other exemplary individuals who made huge contributions to our people, can eventually come back as a killer whale -- "Mah-a-nook" in our language, the highest life form. Their spirit would live in the body of the killer whale.

I came over from Comox to UBC in the 1960s. Coming from a small town, all the distractions of the big city made it very difficult for me to study. I must admit that, even though I was surrounded by lots of new people, I was often lonely and depressed. I thought of quitting UBC and just going home many times.

One day, I found myself in Stanley Park. I had heard that there was a killer whale in captivity at the aquarium. I went to view her through the underwater windows. There was a class of young schoolchildren crowded around the far-end window because Skana was there. I went and stood by a window that was "unoccupied." Immediately Skana swam to the window and started bumping her nose against the glass. The school children all came running over and crowded around. I went to another window and Skana followed me.

This was repeated over and over until the schoolchildren had to leave. Skana just stayed at "my" window until I had to leave as well. I could not believe how wonderful, refreshed and happy I felt as I made my way back to UBC. My depression was gone!

I called my mother in Comox to tell her what had happened. She told me that Skana was probably my grandfather, after whom I am named, and that he was just happy to see me.

I told her that Skana was a female. She said that it made no difference to the spirit of a great chief. It would exist in the body of the killer whale until it died, as sadly Skana did, and then move to that of another younger whale. The chief's spirit would live forever.

I became a regular at the aquarium, not just because of Skana, but because of all the sea creatures there who reminded me of home.

I can say without hesitation that Skana and the tranquil, wonderful, refreshing aquarium atmosphere helped get me through university and law school successfully.

Happy 50th anniversary, Vancouver Aquarium. And thank you for everything.

-- Chief Bill Wilson, Vancouver
© The Vancouver Province 2006
---
Make the most of your visit
Dig in to our guide to doing the aquarium right -- what to see if you're in a hurry, what to do if you've got all day, and insider secrets you can pass on to your friends


Lora Grindlay, The Province
Published: Sunday, June 11, 2006

BEAT THE CROWDS

Arriving as the doors open -- 10 a.m. daily for most of the year but 9:30 a.m. from June 24 to Sept. 4 -- guarantees at least half an hour of almost private time. It's a great time to visit with kids because they can roam, run and explore without getting tangled up in a crowd. Insiders say another good time to visit is after 3 p.m. when things quiet down.

Winter hours: 10 a.m. to 5:30 p.m.

Summer hours (June 24 to Sept. 4): 9:30 a.m. to 7 p.m.

MAKE IT QUICK

If you've only got an hour, make sure you peek at the belugas underwater, walk through the Wild Coast exhibit to see dolphins and sea lions and gaze up from the bottom of the Strait of Georgia exhibit. And sneak into the Amazon Rainforest to look for a sloth sleeping in the trees.

GETTING THERE

Parking, especially in the summer, can be troublesome, so plan on parking elsewhere -- Coal Harbour, for instance -- and walk the seawall to the aquarium. Stanley Park is well served by TransLink buses and from March to October there is an express bus between downtown and Stanley Park that is free to aquarium customers.

In the park, catch the free shuttle- bus service that stops at 14 locations. It operates every 15 minutes from June 20 to Sept. 24.

TICKETS

If you are a local family and plan on visiting more than a couple of times a year, by far the best deal is to get a family membership. An annual pass for families of up to five (two adults and three kids) is $110 while daily admission ranges from $10.95 to $18.50, depending on age. If you were lucky enough to be born in 1956, the same year the aquarium opened, and bring proof of that with you, you get in free -- as many times as you like until Dec. 31.

BEST VANTAGE POINTS

For a full-on aquatic experience, sit in the designated splash zone at the beluga pool -- but watch your camera doesn't get a shower. For a drier experience, and a unique perspective, watch and listen to a beluga show in the underwater viewing area.

For dolphin shows in the Wild Coast exhibit, there are plenty of options along the elevated walkways. There's not a lot of room at the Stellar sea lion exhibit, but the show is worth being first at the rail for, patiently waiting for show time.

FOR THE KIDS

There's not much that kids won't be fascinated by at the aquarium, but most will love role-playing a veterinarian at Clownfish Cove. Kids can don an apron, hang a stethoscope around their neck and help heal a stuffed (but injured, of course) seal. They will weigh them, pretend to give them medicine from a syringe and kiss them better.

SEE AND SNOOZE

A daytime visit is one thing, but to truly do it right, consider a sleepover. The aquarium organizes numerous sleepovers every year. You will make your own pillowcase using traditional Japanese fish rubbing, work in the wet lab, bed down in the underwater beluga viewing area and breakfast with the whales.

SPECIAL OCCASIONS

Holidays are a special time to visit, and the aquarium is open 365 days a year. Scuba Claus, an aquatic version of Santa complete with long white beard, waves from inside the beluga pool, and kids who point out Easter eggs to divers get to keep the prize inside.

FEAST YOUR EYES

A visit is not complete without seeing a pair of sea otters floating on the top of the water holding hands. It's just about the cutest thing you will ever see.
© The Vancouver Province 2006
---
Memorable quotations from over the years

The Province
Published: Sunday, June 11, 2006

"It's the last time I'll bend down to kiss her."

-- Trainer Klaus Michaelis, after nearly getting his head bitten off during a routine with killer whale Skana, in 1978

- - -

"I was waxing the floor at the opposite end to the main tank. Suddenly there was an explosion and the place shook like an earthquake. When I turned around, the water was surging toward me and I ran for the stairs."

-- Caretaker Eric Carr, after the main tank burst and pitched an octopus, skates, dogfish and more, onto the floor, in 1958

- - -

"He's acting like a real wolf. All this feminine company all at once is a bit too much for one young fellow to handle."

-- Assistant curator Vincent Penfold on Splasher the dolphin after three females arrived from California, in 1966

- - -

"I opposed the last increase from 35 cents to a dollar. I am dismayed by the fact the aquarium is asking two dollars. . . . They are completely out of touch with the average wage-earner in Vancouver."

-- Parks board boss George Puil reacting to a 100-per-cent admission fee increase in 1969

- - -

"She died quietly and with dignity, without a noise or a fight.

"She closed her eyes and left us."

-- Michaelis on the death of the much-beloved killer whale Skana, in 1980

- - -

"If we wanted to take the absolute safe way out, we'd just keep her, keep her on billboards, and let people come see her until the day she dies.

"But that seemed rather hollow."

-- Executive director John Nightingale, on the decision to move killer whale Bjossa to SeaWorld San Diego, in 2001

- - -

"We found out when he got an erection."

-- Curator Gil Hewitt, on how young killer whale Finna's sex was discovered

- - -

"We felt a little sad to see the old girl go."

-- Biologist Stefani Hewlett after Lucy the lingcod was returned to the ocean, in 1981. They weren't that sad; she was infamous for devouring other fish in her tank

- - -

"I just happened to drop in -- it was like winning the lottery."

-- Vancouver salesman Dave Pelletier witnessing the birth of Bjossa's baby, in November 1988. The unnamed killer whale died three weeks later

- Thanks to Province librarian Kate Bird for her her Vancouver Aquarium research -- photos, history and more.
© The Vancouver Province 2006
---
The new doctor in the house
Throughout his nine years at the world's largest marine mammal rehabilitation centre, Marty Haulena had his eye on the veterinarian's job at the Vancouver Aquarium
Dr. Marty Haulena became the aquarium's new veterinarian on March 1.


Dr. Marty Haulena became the aquarium's new veterinarian on March 1.
Photograph by : Jon Murray, The Province


Lora Grindlay, The Province
Published: Sunday, June 11, 2006

There was only one thing that could have torn Dr. Marty Haulena away from his dream job at California's Marine Mammal Centre, the largest rehabilitation centre in the world.

"It was a fantastic job," says the 39-year-old Ottawa native. "I loved that job and even when I started, I thought the only thing I'd ever leave it for was the Vancouver Aquarium.

"I've always liked the area, the Vancouver Aquarium has such a great reputation and it has a good rehab program. It has a great staff and a tremendous variety of animals and it's in Canada."

And that's just what happened. After nine years at the Sausalito, Calif., medical facility, Haulena began his job as the Vancouver Aquarium's staff veterinarian on March 1.

Although retired vet Dr. Dave Huff remains involved in the aquarium, it's Haulena who is now responsible for healing sick creatures and keeping the healthy ones that way.

He says Huff has been a mentor of his for years and he's always had an eye on his job.

"I used to go and tease Dave Huff at our conferences every year, asking how his health was and stuff," says a laughing Haulena.

"He's very, very well thought of in the aquatic-animal medicine world. He came up to me last year saying he was thinking about retiring and suggested I apply. That was quite an honour."

Growing up nowhere near an ocean, Haulena can't explain his longtime fascination with aquatic animals.

It was on family road trips to Florida that his parents indulged him by stopping at every roadside aquarium or marine-mammal display.

"I think I was seven years old and I decided I was going to work with dolphins. I guess I'm one of those few people that actually got to do what they always wanted to do."

Haulena graduated from Guelph's Ontario Veterinary College in 1993 and specialized in aquatic animal medicine. He joined a Toronto exotic animal practice, the largest in Canada, where he worked on birds, reptiles, snakes, guinea pigs and hamsters.

He also did wildlife rehabilitation on raptors and coyotes.

He then returned to Guelph to do a master's in wildlife pathology, specializing in fish, and did a one-year clinical internship at the Mystic Aquarium in Connecticut.

For the last nine years he's worked at the Marine Mammal Centre and as a relief vet at the San Francisco Zoo. He's worked on seals, reptiles, belugas, sea lions, elephants, mice, frogs, rhinos and giraffes.

In his line of work, no day is the same as the last. Recently, as he

performed his first surgery on a

Vancouver Aquarium frog, he thought: "This is really, really cool."

"An hour before, we were looking at the dolphins doing stuff," he says. "That variety is really exciting.

"Doing ultrasound routinely on sea lions but now applying it to a sloth or something weird is a really exciting thing.

"And medicine is medicine. It's remarkable how similar physiology remains across species."

For now, Haulena is waiting for his wife and two-year-old daughter to wrap up life in California and move to Vancouver. They've bought a house on Bowen Island -- big enough for their black lab, cat and an aquarium full of African cichlids.

lgrindlay@png.canwest.com
© The Vancouver Province 2006
---
Rude wake-up call sent killer whale into frenzy
The Province
Published: Sunday, June 11, 2006

During the 1970s, I worked for a company that provided nighttime security at the aquarium.

Apart from the usual checks, we swung into the outdoor pool at regular intervals to ensure the killer whale did not remain submerged too long.

I recall one night, when I arrived on the gallery steps, and swept my flashlight along the surface of the water. Whether the animal had been asleep and I scared it I don't know, but to my horror it immediately went into high gear roaring around the pool, creating large waves and bumping into the walls.

My principal concern was that its combined weight and speed might well smash the glass of the underwater viewing area. I had vivid flashes of a small-scale tidal wave mixed with shards of glass and a very shredded killer whale! Fortunately, the whale slowed down, my heart stopped thumping, and, from then on, all my nighttime wake-up calls were much more cautious.

-- Graham Conway, Delta

I am not sure who experiences a greater sense of adventure at the aquarium -- the parents who take their children for the first time and get to witness the awe in their child's face, or the child who gets to explore a world that, until then, had only existed in their imagination.

-- Aaron and Marcie Cyr, Abbotsford

- - -

Two years ago, at the age of four, my granddaughter Alexandra and I got a membership and we couldn't get enough. She would sleep over on a Friday night so we could get up early on a Saturday in order to be there for Super Saturdays.

Alexandra's first stop, every single time, was the animal care centre. I tried to get her to visit the belugas or sea otters, but no, she had to don her apron and stethoscope and take care of those baby seals.

Last year we got a membership at Science World instead. Boy, did we miss the animals. Finally, on May 20, we were back. And yes, her first stop was the animal care centre.

-- Bonnie Cunningham, Langley

- - -

When my daughter was five, we visited the aquarium during Bjossa's pregnancy and then, sadly, after the loss of her beautiful calf. I did not pay attention to what I was dressing my kids in that day. My daughter had on slacks and matching jacket, all black with a stark white trim. While in the viewing area of the killer-whale pool, my daughter climbed on the ledge. Pretty soon a crowd gathered. What we all saw still brings a tear to my eye. Bjossa swam in front of my little girl and stayed there, staring at her. Neither moved. I realize what my daughter was wearing was similar to what a baby killer whale must look like.

I know the very intelligent Bjossa felt this little human was, in some way, honouring the loss of her beautiful baby.

-- Catherine Randall and family, Surrey
© The Vancouver Province 2006

Top
---
Nothing funny about those Aquarium ads

Jun 01 2005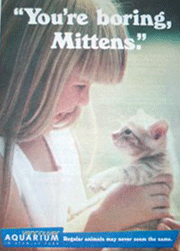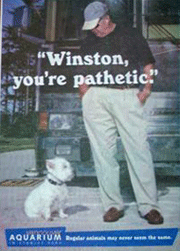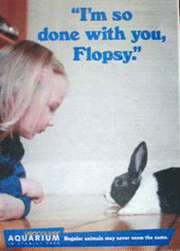 The Editor,
"I'm so done with you, Flopsy"
"You're boring, Mittens"
"Winston, you're pathetic."

The Vancouver Aquarium's new ad campaign, as seen in Saturday's Tri-City News, is nothing short of appalling. With a clearly stated mandate of wildlife conservation and education of the public, why on Earth would the Aquarium use a campaign slogan that encourages a disposable attitude towards household pets?

A quick search on Petfinder.org reveals 436 dogs, 450 cats, 214 listings for rabbits (not including multiples) and 63 listings for other small animals such as hamsters, guinea pigs, rats and mice (not including multiples) - all animals in the Vancouver area in need of homes.
I understand that the ads were probably intended to be humourous but in abandonment of pets is no laughing matter.
Laurelei Primeau
Port Moody
© Copyright 2005 The Tri-City News
NOTE: The Vancouver Aquarium marketing department pulled these adds after receiving more complaints from the public.
Top
---
Aquarium expansion plans opposed

VANCOUVER/CKNW(AM980) - A group opposed to the expansion of the Vancouver Aquarium says put the changes to the people.
Annelise Sorg with the Coalition For No Whales In Captivity says the citizens of Vancouver should vote on any expansion plans, "It shouldn't be dealt with through a public relations firm representing the aquarium. It should be dealt with democratically, which means there should be, in the next civic elections, there should be questions regarding the aquarium on the ballot, which is really the way to go."

Sorg is reacting to a recommendation by Vancouver City staff to have the Park Board conduct a review of the proposal, which includes some public consultation.


Top
---
Whale lovers threaten court action
Georgia Straight
News Blog
By Charlie smith

Publish Date: 9-Jul-2006

The Coalition for No Whales in Captivity has called upon park-board commissioners to reject two staff recommendations at the meeting on Monday (July 10) evening.

For background http://www.straight.com/content.cfm?id=18882

Coalition spokesperson Annelise Sorg claimed in a news release that one of the agenda items asks the commissioners "to endorse and participate in a public relations and promotional campaign that will be planned and managed by a private firm of lobbyists working for the private institution that you are regulating, and you are also being asked to spend public money paying a major part of the costs of that promotional campaign."

Sorg is of course referring to staff's recommendation that the park board and the Vancouver aquarium both retain consultant Judy Kirk's company to manage a public-consultation process.

Sorg added that the best way to determine the citizens' views would be through a referendum or plebiscite. Sorg also alleged there were errors in agenda item number six, which concerns a bylaw review.

"The major direct falsehood, with grave implications for the Park Board, is this. The staff report states 'in 2003 and 2006, groups disapproving the capture of cetaceans for display purposes have presented briefs to the Board outlining concerns with the effectiveness of the Bylaw'. That is untrue. The report made by the Coalition on July 21, 2003 did deal with the potential ineffectiveness of the current Bylaw, and that report has now been proven to have been accurate in every respect. The report made by the Coalition on June 6, 2006, one month ago, dealt with something entirely different. It was a formal complaint to the Park Board, in your capacity as a law enforcement authority".

Sorg alleged that the bylaw concerning dolphin importation had been breached, and it was the board's duty as a regulator to pursue the issue. Vancouver aquarium staff have always maintained that they adhered to the bylaw concerning the importation of cetaceans into Stanley Park.

"If tomorrow night you adopt this staff report without comment, without calling for it to be corrected, and without addressing your failure to enforce your own bylaw, that action will have formal consequences," Sorg warned. "It will constitute a formal refusal by this Park Board to act upon the complaint of unlawful behaviour that it received on June 6, 2006. Your refusal will be presented as such to the court."

Don't be surprised if Vancouver park board general manager Susan Mundick brings in city legal beagle Tom Zworski to shut this one down in the courts.


Top
---
Georgia Straight Letters
Letters Archives

Aquarium referendum, plebiscite loss bemoaned
Publish Date: 13-Jul-2006



Regarding your article on the aquarium ["Aquarium pushes expansion", July 6-13], which mentioned the results of the Vancouver park board meeting of May 29, 2006: as a previous employee of the aquarium, 1976 to 1981, I was dismayed that the vote overturned two previous motions requiring a referendum for expansion plans as well as a citywide plebiscite to be held in the 2008 civic election. The plebiscite would have asked the following yes or no question: "Are you in favour of phasing out the containment of whales and dolphins in Stanley Park?" This would be done with the "goal of testing the public opinion in the interests of long term planning for the next lease renewal with the Vancouver Aquarium, in 2015". The aquarium argued against this, as it would not give them enough time to get ready for the Olympics.

I believe that the aquarium's captive mentality wrongly teaches the values of false conservation, dominance over animals, and humans' inability to correct or change our destructive ways. Instead, we could be investing in both problem-solving techniques using our technological advances and resources by protecting the existing habitat(s) and creatures within them rather than reliance on relocation, except under extreme situations.

Huge educational strides have indeed been made toward animal conservation and awareness, but I would argue that it would have and should have progressed based solely upon autopsy reports on washed-up carcasses, field studies, films, and true rehabilitation incidents, such as oil spills, not through the long-term imprisonment of healthy wild animals.

The passing of the aquarium's expansion plans without a public referendum allows a further 28.7- percent encroachment upon public park space by what is, essentially, a private business. To complete their final two phases, the aquarium will be asking for multimillion-dollar grants of public money from municipal, provincial, and federal governments. This, I believe, should have been left to a public binding vote, not a suggestion box of ideas on how to do the changes.

I will be at the July 10 park board meeting voicing my opposition of this undemocratic, misguided, and horribly expensive project that does more harm than good. The only pools that are worthy of these animals are the Earth's.

> Keith Edwards / Vancouver


Top
---
VANCOUVER AQUARIUM SEEKS PUBLIC INPUT ON A REVITALIZATION AND EXPANSION PROPOSAL
Vancouver, BC: The Aquarium today confirmed that the public consultation on its proposed revitalization and expansion will be held from September 25 - October 30, 2006.
The Vancouver Aquarium is proposing a revitalization and expansion to improve its animal habitats and public spaces, and is seeking community input on the desirability of the proposal.
The proposed revitalization will benefit animals in the following ways:
Larger pools, which could accommodate up to eight whales and eight dolphins, will provide more room for swimming
Deeper pools with more varied underwater landscapes will provide environmental stimulation
More pools will give these highly social animals more room to interact as individuals and families
Dedicated medical and maternity facilities will ensure appropriate care for all animals including mothers and calves
Ensure excellent water quality
Provide space for new species such as sea birds and beavers
Better conservation of species in-the-wild through enhanced public understanding of the natural world.
The Aquarium is conducting a comprehensive community consultation through stakeholder meetings, focus groups, one-on-one interviews, a public attitude survey, newspaper inserts, public open houses, an on-line feedback form, and a public information line.

Consultation materials, including information about proposal benefits and impacts, will be available at www.aquariumconsultation.ca on September 25th, 2006. Public input will be collected until October 30, 2006. The public is encouraged to provide feedback by attending one of the open houses listed below, completing the on-line feedback form or participating in any of the other consultation events.

Public Open Houses
Date: Thursday, September 28, 2006
Time: 6:00 p.m. - 9:00 p.m.
Location: Vancouver Public Library, Alice MacKay Room, 350 West Georgia Street

Date: Saturday, September 30, 2006
Time: 2:00 p.m. - 5:00 p.m.
Location: Killarney Community Centre, 6260 Killarney Street Date: Tuesday, October 3, 2006
Time: 6:00 p.m. - 9:00 p.m.
Location: Dunbar Community Centre, 4747 Dunbar Street

Aquarium Revitalization & Expansion 3-D Model
September 29 through October 30
West End Community Centre - Lobby
870 Denman Street, Vancouver, B.C.

How Consultation Feedback will be Used

Consultation input will be independently verified and analyzed by Synovate, an internationally recognized market research firm. Results will be summarized in a Consultation Summary Report, which will be presented to the Vancouver Park Board and made available during subsequent public meetings. Public feedback will be considered along with technical and financial information prior to finalizing the project.

About the Aquarium

The Vancouver Aquarium is the largest aquarium in Canada. It is home to more than 70,000 creatures, including fish, invertebrates, mammals, birds, reptiles and amphibians. Over 900,000 visitors come to the Aquarium each year, including 60,000 schoolchildren. The Vancouver Aquarium is a self-supporting, non-profit organization, receiving no operational funding from government. The Aquarium's Board of Directors includes 44 community volunteers. The Aquarium has 350 employees and 900 volunteers.

Its mission is to effect the conservation of aquatic life through display and interpretation, education, research and direct action.

Media Contact:
Brenda Jones, Vancouver Aquarium
Tel: 604-659-3516
Email: Brenda.Jones@vanaqua.org

For More Information on the Consultation Process:
Project Information Line: 604-659-3569
Fax: 604-659-3515
Email: aquariumconsultation@vanaqua.org
Web: www.aquariumconsultation.ca (As of September 25th, 2006)

Top
---
Will you help the whales today?
YES