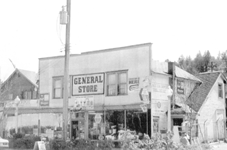 The construction of a trans-Canada railway line was the condition that prompted British Columbia to enter into confederation in 1871. The little town of Port Moody received little attention until it was declared the terminus of the Canadian Pacific Railway in 1879.
By 1881, the survey of Port Moody had begun. Both John Murray Sr. and Jr. assisted and, in fact, it was John Murray Jr. who named many of the streets after members of his family.
The population quickly grew through the early 1880s. As the Western Terminus of the CPR almost everyone had high hopes that Port Moody would become a major west coast metropolis.
The railway was completed with the Last Spike driven at Craigellachie on November 7, 1885 and a train from the East arrived the next day in Port Moody.
The first scheduled passenger trans-continental train arrived on July 4, 1886, a date which is still celebrated during Golden Spike Days. Real-estate prices soared, but soon fell flat when a branch line was built to Vancouver in 1887.
While many people lost a great deal of money and moved on, others, including real-estate tycoon and ship captain, James A. Clarke, and several lumber mills, decided to remain. On April 7, 1913, Port Moody's Council met for the first time as a city. Some prominent early families were Ottley, Bennett, Johnson, Axford, Howard-Gibbon, Thurston, Roe, Abernathy, Elsdon, Campbell, Clarke, Murray and Appleyard.
With its beautiful heritage buildings, growing arts community, mountain views and Rocky Point Park trail, Port Moody continues to be a vital residential city of about 35,000.
You may notice the same determined character and community spirit today that carried Port Moody citizens through economic depression to incorporation.

Page Updated March 19th, 2009