Booking Information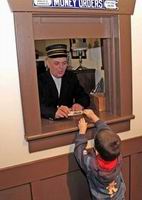 Eating Facilities
The Museum provides space for groups of up to 32 people to eat. There is minimal open space for storing belongings.
Accessibility
The Museum is wheelchair accessible but the washrooms and the railcar are not.
Directions and Parking
Click here for directions and parking information.
Chaperones
A minimum of 1 adult chaperones for every 10 students is required. All chaperones receive free admission.
Payment Information
Full payment is due by the date of the program. Payment may be made by cash or cheque. Please make cheques payable to the Port Moody Heritage Society.
Cancellation Policy
Cancellations made within one (1) week of the program date will be charged a $30 fee.
Easy Fax Form
Use this fax-back form to book your program now!
To Book Your Program:
Call 604-939-1648
Email programs.pmmuseum@telus.net
Fax 604-939-1647
---
Photo courtesy of Manfred Klaus
Updated September 28, 2009